In this course, first through third grade teachers will learn how to plan for a year-long program to integrate fluency into a daily routine that gets and keeps students motivated to learn their basic facts (no computer required). Though a daily routine may not be practical for fourth grade students and above, upper grade level teachers can still benefit from the variety of activities and learning strategies provided, especially in the Extension section.
Plan ahead so students, parents, and you have the materials you need and a strategy for using them.
Learn the steps to integrate the Ten Frame and Rearrangement strategies so students move from understanding to automaticity in just 5 minutes a day.
Explore our resources to choose which games, activities, and ideas you want to use in your classroom.
This course will take about 30 minutes to complete, but you may want to come back later and often to visit the resources.
Use this planner to take notes as you go through the course.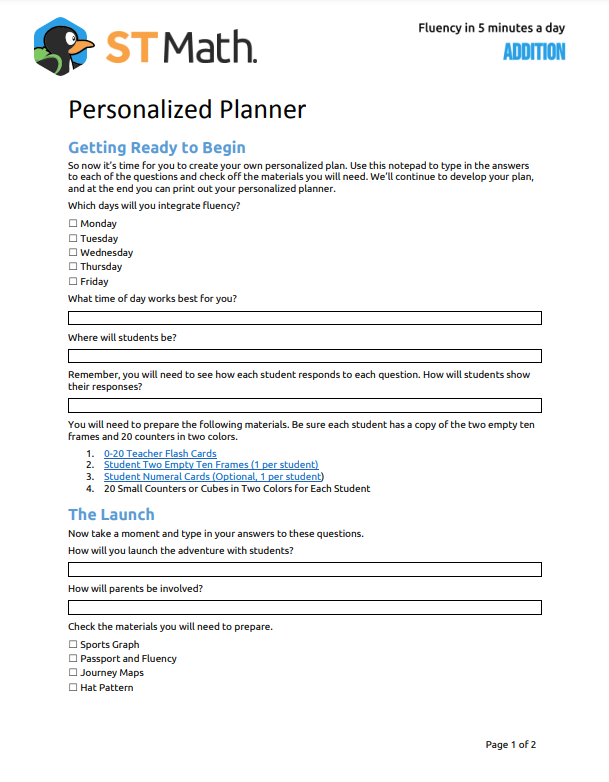 Introduction
Not convinced you can make a difference in 5-10 minutes a day? We bet you can!
Getting Ready to Begin
Step 1 is planning how you'd like to fit fluency into your schedule.
Thinking about Fluency
How fluency is a lot like dribbling, scales, and hitting the gym.
Monitoring and Assessing Activity Ideas and Links
Ideas for recording anecdotal assessments
Alternatives to timed tests
Ideas to include students and parents in self-assessment
Mastering the Ten Frame
Watch it in action then download the instructions that will get your students on their way to addition/subtraction fluency.
Mastering Questioning Activity
Use this activity to practice the strategies for quick-fire questioning.
Strategy of the Month
See how focusing on one strategy a month helps students become fluent.
Extension Games, Activities, and Links
Games for Practice and Maintenance
Games to Apply and Extend